COPPA CIANO Livorno (I), 7 AUGUST 1938 VOITURETTE
25 laps x 5.8 km = 145.0 km
16 starters
The long expected new Alfa Romeo Tipo 158 "Vetturetta" finally appeared for the first time at Coppa Ciano, raced by Emilio Villoresi, Biondetti and Severi. The new cars showed their speed during the practice. In the race it was however Luigi Villoresi in an upgraded works Maserati 6CM who led after the first lap. Bianco, back after his Albi crash, was already out of the race. Luigi Villoresi, having led the first half of the race, had to let his brother by when there was trouble with the Maserati and at 15 laps he retired. The Alfa Romeos dominated the rest of the race, but a possible triple victory was lost when Severi spun and dropped to 9th. This was the first of many victories for the famous Tipo 158 "Alfetta".

GRID:
N°22 L.Villoresi (Maserati) N°24 Biondetti (A.Romeo) N°14 E.Villoresi (A. Romeo) N°26 Severi (A. Romeo)
N°16 Teagno (Maserati) N°32 Piersch (Maserati) N°2 F. Cortese (Maserati)
N°20 "Raph" (Maserati) N°8 Ruggeri (Maserati) N°30 Marazza (Maserati) N°34 Pelassa (Maserati)

RESULTS:
1° E. Villoresi (Alfa Romeo T 158)
2° Biondetti (Alfa Romeo T 158)
3° Marazza (Maserati 4CM)
4° Cortese (Maserati 6CM)
5°G.Barbieri (Maserati 4CM)
6° Ruggeri (Maserati 6CM)
7° Severi (Alfa Romeo T 158)
8° Corsi (Maserati 4 CM)
DNF Pelassa (Maserati 4CM)
DNF Pietsch (Maserati 4CM)
DNF "Raph" (Maserati 6CM)
DNF Teagno (Maserati 6CM)
DNF L.Villoresi (Maserati 6CM)
DNF Marelli (Maserati 4CM)
DNF Brezzi (Maserati 4CM)
COPPA CIANO Livorno (I), 7 AUGUST 1938
40 laps x 5.8 km = 232.0 km
STARTERS:
N°42 Vittorio Belmondo (R. Balestrero) Alfa Romeo Tipo 308
N°44 Rudolf Caracciola (Daimler-Benz AG) Mercedes-Benz W154
N°46 Hermann Lang (Daimler-Benz AG) Mercedes-Benz W154
N°48 René Dreyfus (Ecurie Bleue) Delahaye 145
N°50 Giuseppe Farina (Alfa Corse) Alfa Romeo Tipo 312
N°52 Goffredo Zehender (Officine A. Maserati) Maserati 8CTF
N°54 Manfred von Brauchitsch (Daimler-Benz AG) Mercedes-Benz W154
N°56 Carlo Felice Trossi (Officine A. Maserati) Maserati 8CTF
N°58 Gianfranco Comotti (Ecurie Bleue) Delahaye 145
N°60 Edoardo Teagno (Scuderia Sabauda) Maserati 8CM
N°62 Jean-Pierre Wimille (Alfa Corse) Alfa Romeo Tipo 312
N°64 Richard Seaman (Daimler-Benz AG) Mercedes-Benz W154
After having been held as the Italian GP the year before the Coppa Cianco was back in the 1938 calendar. After their disappointing performance in Germany Auto Union decided not to enter the race. That was unfortunate for the spectators as Nuvolari had been sensational at Livorno in 1936. Mercedes-Benz was down to 3 cars after von Brauchitsch's crash in the German GP so Seaman was unable to start. Caracciola had the new experimental car with a huge saddle tank and shorter tail. Maserati was back with two of their fast 8CTF cars for Trossi and Zehender. It was in fact Trossi who made the fastest time on each practice session to take the pole position. Caracciola was second and Lang fourth but von Brauchitsch was beaten by Farina's 12 cylinder Alfa.
Grid:
N°50 Farina (A. Romeo) N°46 Lang (Mercedes-Benz) N°44 Caracciola (M.B.) N°56 Trossi (Maserati)
N°52 Zehender (Maserati) N°54 Brauchitsch (Mercedes-Benz) N°62 Wimille (A. Romeo)
N°60 Teagno (Maserati) N°48 Dreyfus (Delahaye) N°58 Comotti (Delahaye) N°42 Belmondo (A. Romeo)
Race:
Caracciola took the start and led the field into the first corner followed by Lang, Farina and Trossi. Trossi soon showed that his pole position had been no coincident, passing Farina and Lang. Zehender retired his Maserati but the team hardly noticed that because on lap 4 Trossi took the other Maserati up into the lead and started to open up a gap to Caracciola. For four laps the spectators cheered as the Italian car pulled away from the Mercedes cars but that was too much for the Maserati engine and on lap 8 Trossi retired and it was back to normal business with Caracciola leading from Lang and von Brauchitsch, who had managed to pass Farina. While Caracciola was dominating the race in his experimental car, von Brauchitsch made several fierce attacks on Lang, who refused to give way. The two cars entered the right hander after the pits side by side. Lang had the proper line and went on while von Brauchitsch overdid it and slided into the straw bales and came trapped under them with a stalled engine. A number of excited Italian spectators rushed to his help and pushed von Brauchitsch back to continue the race one minute behind Lang. Wimille had trouble with his kidneys and he gave over his Alfa Romeo to Biondetti. Caracciola retired his car when a thick piece of rubber flew away from the right rear tire and punctured the fuel tank so fuel ran out in thick streaks, That left Leng the lead the race with Farina second. Von Brauchitsch soon passed Farina but he could do nothing to Lang, who looked to be a certain winner, but with only two laps remaining a rear tyre blew and Lang had to make an extra pit stop. Von Brauchitsch therefore took the flag as the winner but soon protests dropped in from several competitors against the fact that von Brauchitsch had been pushed back into the race by spectators. The organizers didn't want to disqualify him, as similar things had happened during the Voiturette race, but they were over-ruled by the President of the Sporting Council of the Italian Automobile club, Mr. Giuseppe Furmanik. So von Brauchitsch was out for having received outside assistance and Lang was declared the winner. Farina took a fine second place and Biondetti in Wimille's car was third to make it a great day for the Alfa Corse team. They had already won the Voiturette race.
RESULTS:
DSQ 54 Manfred von Brauchitsch
1° N°46 Herman Lang
2° N°50 Giuseppe Farina
3° N°62 J.P. Wimille/C. Biondetti
4° N°42 Vittorio Belmondo
5° N°48 René Dreyfus
DNF N°52 Goffredo Zehender (Officine A. Maserati) Maserati 8CTF
DNF N°44 Rudolf Caracciola (Daimler-Benz AG) Mercedes-Benz W154
DNF N°58 Gianfranco Comotti (Ecurie Bleue) Delahaye 145
DNF N°60 Edoardo Teagno (Scuderia Sabauda) Maserati 8CM
DNF N°56 Carlo Felice Trossi (Officine A. Maserati) Maserati 8CTF

Hermann Lang (April 6, 1909 – October 19, 1987) was a German champion race car driver. Born in the Bad Cannstatt district of Stuttgart, Baden-Württemberg, Germany, at age fourteen Hermann Lang had to go to work to help support his family following the death of his father. Young Lang found a job as a motorcycle mechanic, eventually buying his own used bike with which he began amateur racing. He won the very first race he entered and before long decided to compete in the sidecar class. At age twenty-two, he won the German sidecar mountain race championship. Lang's big break came when he landed a job at the Mercedes factory where he became part of their Grand Prix motor racing team. He was made head mechanic for the Mercedes-Benz W25A model to be driven by the Italian star Luigi Fagioli who had left Alfa Romeo to create a powerhouse Mercedes factory team that also included Rudolf Caracciola. Following a very successful season in which Fagioli won both the Italian and Spanish Grand Prix, Hermann Lang was given a chance to drive for the Mercedes team. He proved to be most capable on high-speed racetracks, capturing his first win in the 1937 Tripoli Grand Prix at the Mellaha Lake course in Libya which was then the fastest racetrack in the world. Lang dominated the event, winning it for three straight years. That year he won his second major race at the AVUS extravaganza. In 1938, he won two more races for Mercedes including the prestigious Coppa Ciano at Livorno, Italy. Nevertheless, in spite of Hermann Lang's skills and racing success and his popularity with racing fans, being a part of the Mercedes Silver Arrows team was not easy. Made up of wealthy and aristocratic drivers who looked down on the uneducated, working-class Lang, he was always treated as an outsider. However, in 1939 he earned their grudging respect when he won five of the eight Grand Prix races he started, including victories at the Belgian Grand Prix, the Pau Grand Prix in France, the Swiss Grand Prix and his third consecutive Tripoli Grand Prix. He clocked the fastest lap at the French Grand Prix and was leading the field but engine trouble knocked him out of the race. In 1939, Lang also competed in, and won, the Kahlenberg hillclimbing race in Austria. In 1939, Lang was declared the champion of the European Championship, but this is unofficial. The season was cut short by World War II and Lang received this title from the German motor racing authority, instead of the official authority AIACR. By way of the points at the last attempted race of the season, competitor Hermann Paul Müller was considered the points leader, not Lang. Lang, at the time, was a Nazi officer (as was Bernd Rosemeyer and other drivers). The onset of World War II robbed Lang of his best years but after the war ended, he returned to racing in 1946 without a team, driving a six-year-old BMW to victory in the first post-war race in Germany held at Ruhestein. In 1949 he began sports car racing and then competed in Formula Two racing before joining the Mercedes Grand Prix racing team in Argentina, at the Buenos Aires Grand Prix in 1951. In 1952, at age 43, he teamed up with Fritz Riess to capture the 24 hours of Le Mans. The following year, he published his autobiography titled "Grand Prix Driver," with the Foreword written by the Mercedes team manager, Alfred Neubauer. Published in Germany, it was translated into English by Charles Meisl and brought out in England. In 1953, Hermann Lang was given a chance to participate in Formula One racing driving for Maserati after one of their team drivers was injured. He raced in two F1 events that year with his best result a fifth place finish at the Swiss Grand Prix. The following year Mercedes rejoined Grand Prix racing and Lang came back for another F1 season behind the wheel of a Mercedes W196. But at age 45, he had a less than successful campaign that saw him replaced in several races by one of the team's younger drivers. His season and career ended at the 1954 German Grand Prix at Nürburgring when he spun out after ten laps. Lang recognized the time had come to retire from racing and he returned to his job at the Mercedes factory. Hermann Lang died in 1987.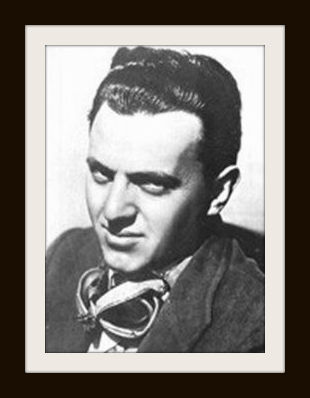 EMILIO VILLORESI
"Memi Villoresi, l'aquilotto dell'Alfa-Corse", così titolava "Auto Italiana" del 20 settembre 1938, all'indomani della vittoria di Emilio Villoresi su Alfa Romeo al Gran Premio Milano. Già: perché di Villoresi piloti ce ne furono due, Luigi ed Emilio, fratelli tra di loro. Emilio, minore di un anno, sembra quasi precedere il maggiore come precocità di inclinazione e di risultati. Inizia a correre nel 1933, partecipa alla Mille Miglia, alla corsa in salita dello Stelvio, alla Como-San Maurizio, e continua, con risultati non sfolgoranti, negli anni successivi. Nel 1938 la svolta: viene confermato nel vivaio di piloti - tra cui Nuvolari, Farina, Sommer, Tadini, Pintacuda, Siena, Biondetti e Severi - dell'Alfa Corse, il nuovo organismo sportivo deciso dall'ing. Gobbato all'inizio di quell'anno. Troppe infatti erano le difficoltà derivanti dall'avere l'Alfa Romeo a Milano e la Scuderia Ferrari, ovvero la sua propaggine sportiva, a Modena: e i risultati di gare nel 1937, non certo brillanti per i colori italiani, ne erano la conferma. Così fu decisa la costituzione della nuova società Alfa Corse, indipendente dall'Alfa, ma fisicamente attigua alla fabbrica, con tutti i vantaggi che questa vicinanza comportava (in un mondo senza fax, senza cd-rom, senza internet e videoconferenze). E' nel 1938 che l'albo d'oro di Emilio Villoresi si arricchisce improvvisamente: è primo assoluto alla XII Parma - Poggio di Berceto, 2° assoluto alla XII Pontedecimo - Giovi, 1° assoluto alla XVIII Coppa Ciano, 1° assoluto al III Gran Premio di Milano. La prima di queste gare segna l'esordio di Wimille unico pilota sull'Alfa Romeo 8 cilindri 2900 cc (il suo debutto infatti era avvenuto con la Mille Miglia sullo stesso modello di vettura, in coppia con Eugenio Siena), ed è anche la sua prima gara nell'Alfa Corse. La sua media non è strabiliante, infatti il record di Tadini dell'edizione precedente resta imbattuto, ma è pur sempre sufficiente per vincere: 114 km/h. Sicuramente con suo grande disappunto, il fratello Gigi, su Lancia Aprilia, arriva soltanto decimo di categoria, nella classe fino a 1500 cc, e nono assoluto. La Pontedecimo-Giovi di quell'anno vede schierati addirittura 57 partecipanti: e tra questi, oltre all'asso già affermato Farina che infatti si porterà a casa il trofeo, viene citato "il giovane acquisto dell'Alfa Corse, Memi Villoresi, concorrente minaccioso vista la sua precedente affermazione". E difatti arriva secondo, segnando un tempo inferiore di due secondi al primato stabilito nell'edizione precedente, confermando, come scrive la stampa, "le sue ragguardevoli possibilità". E si arriva a settembre, a Monza. Il Gran Premio d'Italia è preceduto dal Gran Premio Milano per la Coppa del Fascio primogenito. Emilio, su Alfa Romeo naturalmente, è in prima fila con il n. 8; in seconda fila il fratello con il n. 6 su Maserati. Gli altri concorrenti non sono certo da poco: Sommer, Cortese, Castelbarco, Pietsch, Platé. Alla partenza e per i primi giri Emilio e Luigi corrono appaiati, ma al quinto Emilio passa in testa per rimanervi sino alla fine, mentre Gigi è costretto al ritiro per la rottura di un pistone. La marcia delle Alfa Romeo in questa gara è davvero trionfale: tre delle quattro macchine iscritte si classificano, due di esse ai primi due posti con un solo secondo di distacco. E di questo trionfo Emilio è il riconosciuto protagonista. Anche per questo quel suo inspiegabile, fatale incidente nel giugno 1939, in una seduta di prove a Monza, apparve ancora più doloroso. Si parlò di un malore per aver ripreso gli allenamenti troppo a ridosso di un pasto abbondante; di una uscita di pista ad una curva sciaguratamente alberata; del troppo caldo che aveva rallentato i riflessi. In un'intervista rilasciata nel 1989 Luigi ebbe a dire che, venti anni dopo, qualcuno aveva ammesso la rottura dello sterzo. Certo è che fu un colpo tremendo per la famiglia Villoresi, cinque fratelli tutti molto legati tra di loro. Luigi decise che l'unico modo per superare lo choc sarebbe stato ributtarsi a correre subito: e convinse i Maserati, che esitavano, ad iscriverlo ad una gara che si correva quindici giorni dopo.
(Donatella Biffignandi. Pubblicato su "Auto d'Epoca", ottobre 1997)

Emilio Villoresi (1914–June 20, 1939) was an Italian Grand Prix motor racing driver. Emilio Villoresi was born in Milan, Lombardy, the younger brother of the star Maserati driver, Luigi Villoresi who co-piloted with him in several races at the beginning of their careers. Emilio Villoresi and his brother competed in the 1935 and 1936 Mille Miglia driving a Fiat 508CS Balilla Sport but after a disappointing finish they purchased a Maserati which they drove individually in different races. Emilio was so successful that he was signed to drive an Alfa Romeo for Scuderia Ferrari in the 1937 season. Nicknamed "Mimì," at the 1937 Coppa Principessa di Piemonte, Emilio Villoresi earned a third place finish behind team-mates Giuseppe Farina and Clemente Biondetti and another third place at the inaugural "Circuito della Superba" at Genoa. In 1938, when the German Silver Arrows were dominating everything in Grand Prix events, Villoresi won the voiturette class at both the Coppa Ciano and the Italian Grand Prix. In May 1939, he finished a strong third to the still dominant Mercedes-Benz cars of Hermann Lang and Rudolf Caracciola but his career was cut short the following month by his death while testing an Alfa Romeo 158 Alfetta for Enzo Ferrari at the Autodromo Nazionale Monza.